A modular solution / ARIA chambers are fully adaptable to your available space with silos of varying widths, lengths and heights / Modular, scalable system with removable parts
Combines performance with sturdiness
• Easy to maintain: the entire mechanism is on the
outside of the flour chamber
• 50 x 50 cm interior access hatch
Practical and reliable / The patented screw conveyor allows uniform descent of the flour along its entire length
Safety system / Jamming prevention system protects your installation in the event of a downstream failure
Product Sheet (pdf)
Quote Request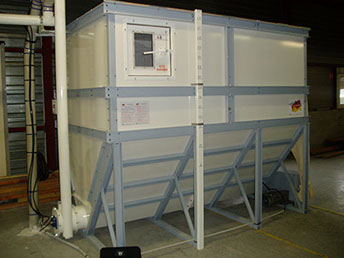 A modular solution
• ARIA chambers are fully adaptable to your available space with silos of varying widths, lengths and heights.
• Modular, scalable system with removable parts
Dual compartment
• Allows batch traceability
• Avoids running out of stock
• Allows flour to settle
• Storage of two different flours possible
Combines performance with sturdiness
• Easy to maintain: the entire mechanism is on the outside of the flour chamber.
• 50 x 50 cm interior access hatch
Practical and reliable
• The patented screw conveyor allows uniform descent of the flour along its entire length.
Safety system
• Jamming prevention system protects your installation in the event of a downstream failure.
Product Sheet (pdf)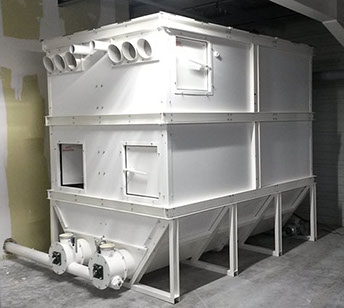 A modular solution
• ARIA canvas silos are fully adaptable to your
available space
• Modular scalable system
Combines performance with sturdiness
• The canvas silo has a vibrating stainless steel
bottom ensuring that bags can be completely emptied.
• The stainless steel frame holds a high-strength
canvas bag stitched to tubular supporting slings
Use
• Canvas silos are perfect for storing products such
as flour, meal, sugar starches and food powders in
general.
Product Sheet (pdf)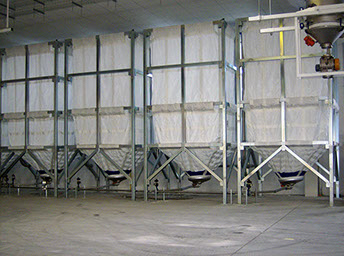 SILO TRANSFER : ENDLESS SCREW OR PNEUMATIC
/ARIA offers entrepreneurs and manufacturers simple, customized and inexpensive solutions for the storage, transfer and weighing of powders, granules and flours.
We bring you a service tailored to your needs: analysis of your space, its configuration and of your work habits, proposal and installation of a tailor-made solution to answer your issues.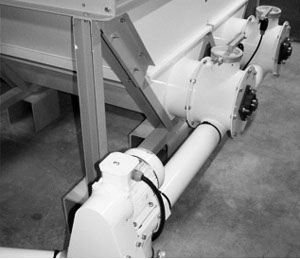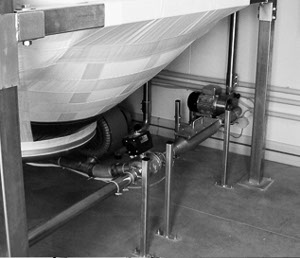 PNEUMATIC
To adapt according to your workspace
RISEBAG : HANDLING AND EMPTYING OF BAGS
Designed to simplify the work of both operators and handlers,
RISEBAG is an essential tool for everyday use in the transportation and transfer of bags.
RISEBAG has been developed in partnership with the
INRS (the French national institute for research and safety).
Product Sheet (pdf)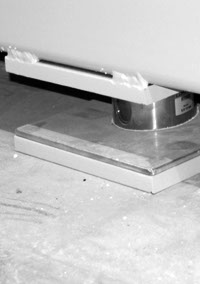 CONVEYOR Controlled fermentation chamber
Automated stainless steel conveyor for controlled or direct fermentation tunnel
> Reduced labor strain
> Ergonomic system
> Adaptability on existing cell (overall width 10 cm)
> Speed ​​of assembly
> High resistance to temperature variations and corrosive atmospheres
> Operate in tropical environment
> Improved longevity of interior protections.
Custom conveyors for tunnel from 5 to 15 m
Width of trolleys from 550 to 1000 mm
DOFAO : measure out the flour and water
ARIA Constructeur introduce his accurate and efficient tool for realizing your recipes by controlling the measure of water and flour from a tactile screen.
The DOFAO tool's functions :
> Weigh your flour
> Dosing your water
> Manage 100 recipes
> Know the state of your stocks
> Consumption history
The advantages :
> Improve the precision and regularity of your production
> Easy to use by your staff due to an intuitive and ergonomic system
Two versions available :
> DOFAO : Water and flour dosing
> DOFA : Flour dosing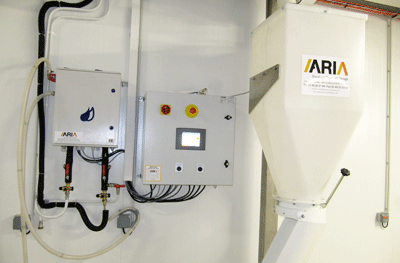 STORAGE
TRANSFER
WEIGHING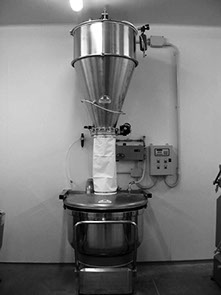 AFTER SALES SERVICE AND MAINTENANCE
ARIA offers after sales services and technical maintenance of your powder silos.
> Follow up / maintenance alarms
> Upgrade to standards (ATEX)
> Cleaning
> Verification of the transfer screw
> Cleaning the weighing station
> General verification of the installation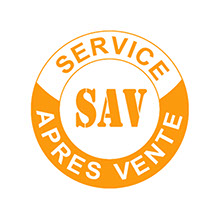 Contact Us
Quote Request
Quote Request
Quote Request
Quote Request
BIG BAG DRAIN STATION
Avantages:
Structure modulaire adaptable à tout type de production
Caractéristiques techniques :
- Structure Acier peint inox ou galvanisé
- Bol vibrant inox
- Vanne fermeture manuelle ou électro-pneumatique
- Coffret électrique 380V triphasé intégré
- Capacité big bag 1t 2
- Chargement par palan ou par élévateur
- Trappe d'accès pour ouverture big bag
Options :
- Système crève sac
- Valve à ouverture par diaphragme pour vidange partielle du big bag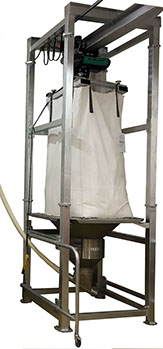 Quote Request
Quote Request
Quote Request
Quote Request
Quote Request
Product Sheet (pdf)